Yes, I know this Blog has terrible title, I was going to call it Royal Baby Pictures because then I would get a lot of views, but then I thought that would be a little too misleading. Anyway, due to the June floods in Alberta all the early Haig glacier camps were cancelled, including ours, but those who are reading this probably already knew that. This meant that we had to complete our biggest volume weeks of the year in Canmore doing dryland training. I love going to the Haig. I like the way it's removed in many ways from everything. I like the fact that there are people there who cook for you, I like that there is basically no internet so we end up spending our free time playing board games and I even like the 30min hike up the glacier every morning. Needless to say I was disappointed we were not going to be able to train up there this year. Training in the Bow valley, however, is never a bad thing. Although I have to say that rollerskiing is considerably higher impact than actual skiing, so the 4.5 hour days that are the norm for the time of year do leave you feeling very sore the next day.
After two weeks of high volume and one week of mixed volume and intensity everyone was feeling pretty wrecked. It was a great volume block and perhaps the best one I have ever done, but it was time for a break. Luckily that was just what the coach's had planned for us. One week of holiday in the middle of the summer when we are all encouraged to get out of town.
View from the Haig. Unfortunately this is from two years ago. Fortunately the camp has managed to open and our team is planning on spending a few days there in September!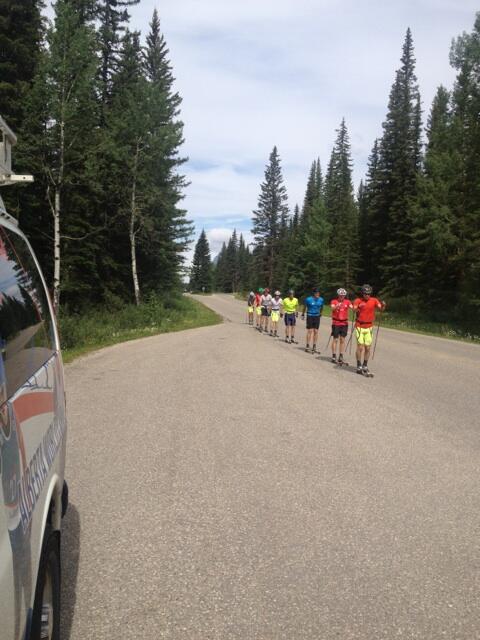 Just one of our 4+ hour days in the Bow Valley. Sorry for the lack of a quality picture, but I never think to take one during these long training sessions.
So where to? Well my first choice was to go back east, but the cost of last minute mid summer flights soon put an end to that idea. The getaway needed to be within driving distance and needed to satisfy my easterner's desire for warm weather and a lake to swim in. After a quick look at a map it was decided that the Okanagan met all of these criteria. So myself and Academy newbies Seb Townsend and Yannick Lapierre spent five days in Canada's warmest region with light training and lakes to swim in it was a great way to spend our off week.
Picking fruit in the Okanagan
The loot and a bit of my foot
On the way back to Canmore however I wasn't feeling as relaxed as I should have been. You see at the end of June I made perhaps the biggest purchase of my life so far. I bought a car. I had been looking casually on the second hand market for some time when finally the right one came up. A 2002 Suzuki Esteem station wagon. Cheap it was, sporty it was not. But I figured that Suzuki being from the same country as Honda and Toyota some of the reliability of those two was bound to rub off on their compatriot car maker. Also it was cheaper than any Toyota or Honda and being a station wagon it would be very practical for putting bikes, skis and bags full of training or camping gear in the back. And so after two years of riding my bike around Canmore rain or shine, winter or summer I became a car owner. Now my grocery runs would not have to in tune with the weather, now if I wanted to get out of Canmore for a bit of variety I could, now if me and a couple of friends decided to go to the Okanagan for a few days during a rest week I could put up my hand and say I can drive there. And so I did. Unfortunately my faithful steed had developed an annoying habit of stalling at low speeds even when the clutch was fully engaged or the car was in neutral. When this problem first came to light I did what any responsible car owner would do and ignored it, yet on the drive down to the Okanagan it reached a point where I could no longer ignore that my car nicknamed Shadowfax (yes after the horse in Lord of The Rings, "Shadowfax show us the meaning of haste") was no longer working properly. So I took it to a mechanic in Vernon and after spending a significant amount of money the problem wasn't fixed. Basically after spending time cleaning and fiddling the mechanic thought he had found the problem, but couldn't get ahold of the part that he needed to fix it… damn. Since at this point we were leaving for Canmore the next day I had no choice but to drive back and see if I could get it fixed there. The next morning however the problem was gone. Making the slow trip back to Canmore on very busy mid summer long weekend roads I kept expecting to stall and hold up a long row of vacationers, but it didn't happen and I'm happy to say that over a week and a half later shadowfax is still working brilliantly. I guess he did fix the problem after all… for now anyway.
Shadowfax in all its glory
The satisfaction of having a car that worked should have reduced my stress levels back to normal post vacation levels, but the heavy sometimes bumper to bumper traffic on the trans Canada and the summer heat (combined with Shadowfax's lack of air conditioning) meant that by the time we reached Golden I had had enough. So we decided to stop and go for a run. I remembered that there was supposed to be a good rope swing in Golden and after a quick google search we found out that it was conveniently located right next to the mountain bike trails… perfect.
Less than half an hour later we were running along twisting trails high above Golden. After hours spent in a sweatbox it felt unbelievably good to be running on what was to me a brand new trail, no drink belt, no heart rate monitor and no idea where the trail would take us. After a week of trying to relax and trying to think about other things than training it was now back training that I felt the most relaxed. Ok it wasn't a real week off, I was still doing some sort of exercise most days, but still this was a good reminder of why I love skiing and all the training that comes with it, even if sometimes it is really hard and can make you feel like a bag of s***.
After about an hour the seeming weightlessness that I felt at the beginning of the run was gone and replaced by the blocks of cement feeling that is more typical with dehydration and being in a car for hours on end. Still it was great run and that combined with a couple of jumps into cedar lake from a rope swing (which was a lot bigger and a lot scarier than I had imagined) meant that by the time we got back to Canmore late at night on what were now nearly deserted roads I felt ready to get back into the swing of things and put my body through a few more months of hard work before we get to the fun stuff.
Unfortunately I don't have any pictures or video of the rope swing, but for those who are curious if you were to search cedar lake rope swing on youtube you would find videos of other people on the same rope swing.
On another note, I am happy to announce that I am now an Athlete Ambassador for Rundle Ski, a new rollerski company out of the Bow Valley. Rollerskis have been made in the same way for years and besides the use of a few new materials they have progressed very little over the past decades. Rundle skis adjustable suspension design (which make it feel more like a real ski as well as flatten out bumps on rough roads) is the first genuine leap forward in rollerski design in years. And no I'm not just saying that, yes they really do work really well and if you don't believe me I hope you get the opportunity to try them soon. Anyway, I'm very excited to be working with this young company as they continue to develop their products.
That's all for now. Well actually it's not, I have decided just now as I'm writing this to add a section at the end of each blog that lists what I might be reading, watching or listening to recently and that I feel the need to share. No I am not the first to come up with this idea and no I don't claim to have particularly good taste in any of the aforementioned categories, but I'll let anyone brave enough to listen to my advice be the judge of my tastes. Also I have decided to put in a quote with each update. This might be something I find particularly inspiring, but will more likely be a random quote from one of my team-mates that I find funny. So here is the first list.
Reading: Racing Through the Dark: Crash. Burn. Coming clean. Coming back. By: David Millar. Just started this one and yes it is the biography of a doper. Being a huge cycling fan I felt I needed to get a better understanding of just what happened during this dark period. The book is so far so good and has managed thus far to avoid an overly self-pitying tone. I will report back later though once I have finished it.
Watching: Besides the newest season of Top Gear I watched the Movie Hanna (2011). Basically it is this: Lots of action, limited story line and a decent amount of violence… not usually my thing, but this one was quite entertaining.
Listening: Metric Synthetica: This album has been out since last year, but I just got around to listening to it… and it's great!
Quote: This is from a team-mate who will remain anonymous, who after a three hour run over a pass in the pouring rain stated in a very matter of a fact way "the rain made my hair wet"… yes it'll do that. Maybe you had to be there.
That really is all for now.