As everyone will have seen on the news Southern Alberta was hit by some pretty severe flooding this past week. Everything started with the overflow of cougar creek on the east side of Canmore and quickly spread to the flooding of the bow river and much of Calgary as well as towns south of the city. Now I have to admit my own experience has been without any major drama thankfully, but plans have been changed and as I write this I'm back in Canmore, with all my possessions (many of which were stuck in Banff for a few days) I will get to details on that soon, but first a short update on how things have been going this year.
In early May I arrived back in Canmore rested up and ready to start a new season. It's hard to believe that this is my third year with the team. Time really does go by fast. Anyway after getting back into training with a week in Canmore we were off to Vernon for our first camp of the year. Vernon is a pretty amazing place. Right in the Okanagan valley summer had very much arrived when we got there and with Sovereign Lakes just a short drive out of town (all uphill of course) we were very close to great spring skiing conditions. Although the snow pack wasn't that deep this year (it was like plus 30 the week before we got there) we still had good skiing conditions our entire camp.
This if from a hike during a short spring camping trip to the Adirondacks before heading back out west.
left to right: Seb Townsend (one of my long time team-mates at Nakkertok and new member of the Alberta World Cup Academy), my brother Andrew, myself and long-time Nakkertok team-mate Steffan Lloyd.
Spring Skiing at Sovereign Lakes
View from where we were staying on Lake Okanagan. The water wasn't too warm but we still got some good cliff jumping in.
Back in Canmore after our camp we got back into the swing of day to day training. It's amazing how much of a difference a year can make. Last year at this time I was struggling to keep up in workouts and not able to always recover enough to complete the training I had to do. This year so far has been a completely different experience. With one more year under my belt I feel as though I am able to handle training much better.
Anyway this brings me to just over a week ago. We were packed up and ready to head to Nelson BC for our annual bike camp. This is just a short camp that is centred on a 210km very hilly bike ride around the Kokanee area of British Columbia. Two days into our camp however, on the day that we were supposed to head out on our ride we woke up to 10 degrees and heavy rain. As you can imagine the idea of doing 210km in cold pouring conditions with the strong possibility of getting sick was not the most appealing concept ( I know we're not very tough are we) so we decided to change our training and do rollerski intervals and a GYM workout instead with the idea of being able to ride part of the way back to Canmore the next day.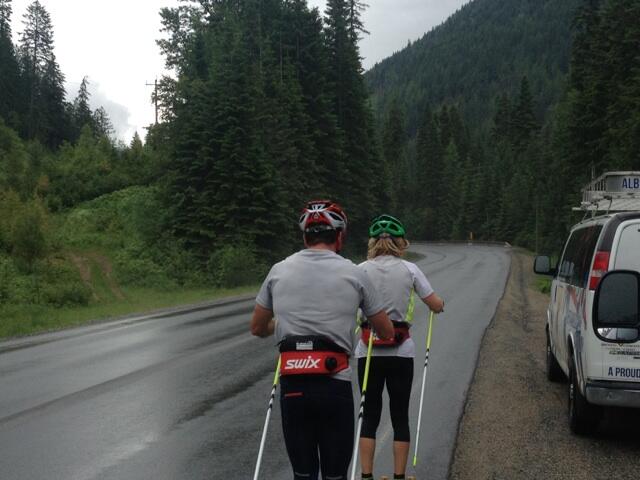 G-kill and Russell making the most of the change of plans
The next day however we woke up to rain again and even colder conditions. We heard through people back in Canmore that there was some risk of flooding and washouts and to be honest we didn't think much of it. To give you an idea June in Canmore is known for having some crazy weather especially rainfall, locally its known as monsoon June. Last year flooding washed out many trails at the Nordic Centre and flooded some basements downtown. This year however after looking at the news and realizing that Canmore had declared a state of emergency it was obvious that this would be more than a few flooded basements and washed out trails. With the realization of what was happening back in Canmroe we decided to high-tail it back with the hope of getting into town before the roads closed.
As we drove further out of Nelson the magnitude of what was happening began to dawn on us. Cougar creek which runs right through the middle of the east side of Canmore (the opposite side as the Nordic Centre) and is often no more than a dry stream bed had turned into a raging river and was quickly eroding the banks and washing away back yards, fences, decks and in some case foundations of the bordering houses. It also became apparent that we were not going to get back to Canmore as the roads in and out of town were quickly closing due to mudslides and erosion. Sure enough once we got to Radium we were told that the road heading east was closed and likely not to reopen for a couple of days. Since we figured there was a better chance of the road heading out of Golden (100km to the north) being opened sooner (since it's the Trans Canada) we decided to head there for the night and since the rain had let up we decided we might as well bike there. The next morning we heard that the Trans Canada between Golden and Banff was open to local traffic so we quickly jumped on the opportunity to get one step closer to home and headed to Banff. Once in Banff we were told that although the highway between Banff and Canmore was closed we were allowed to bike there. With many of the athletes and coach's wanting to get home and pump out their basements and prepare for more flooding we decided to leave as quickly as possible.
Cougar Creek became a raging river taking out backyards and foundations


PHOTO BY JOHN GIBSON/GETTY IMAGES




Cougar creek on a normal day
It was a rather surreal feeling biking back on the Trans Canada. It was raining heavily and it was cold. We had the road to ourselves and could hear the sound of multiple helicopters overhead. The eastbound lane that we were riding on was not significantly damaged, but the westbound had a huge three meter wide and three meter deep gully cutting it in two just a couple of kilometers outside of Canmore. Add to all this that there were 30 plus semi-trucks parked outside of Canmore and the entire scene made for something rather discomforting, like something out of a zombie movie.
Once in Canmore we were greeted by flooded streets and a Bow River that was almost up to the height of the one road bridge that connects both sides of Canmore.
The Bow river sometime before it peaked. usually there's a few metres of clearance for this bridge.
The entire experience was very strange. You read and hear about these types of things all the time on the news (most far worse in terms of loss) but its only when you see it happen first hand that you truly get a grasp of the situation.
Now slowly things are getting back to normal in Canmore there is still no way for none locals to get into town and the only way to Banff is by bus. Most of the trails will need lots of repairs, it will take months to get all the roads in the surrounding area open and there is still a boil water advisory in Canmore. Of course these are all fairly minor inconveniences for those who lost their homes in Canmore and elsewhere in Alberta it will take much longer for things to get back to normal.
In terms of training, the Haig camps have been cancelled until the end of July since the trail in has been damaged, the roads into Kananaskis country are still closed and the helicopters in the Bow Valley are being put to more important use than flying up our skis and gear to a glacier, for the time being. So looks like there will be no skiing in July this year. Wow, it is really hard to write that last sentence without sounding spoiled. The life of an athlete is very good indeed and the recent events only help to put in perspective just how lucky I am.
Actually one more thing. This is a video I recently found of the late great Steve Jobs. I rather like the message and I think it applies very well to sport (and many aspects of life).